About Us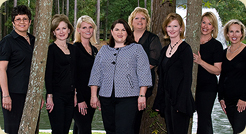 Dr. Garner has been proudly serving The Woodlands and surrounding areas for more than 12 years. Her new location opened in early 2008 and has been lauded for its cutting-edge technology and warm, inviting atmosphere.
Her state-of-the-art office features low-radiation digital radiographs, computerized charting, cosmetic imaging, nitrous oxide (laughing gas), oral sedation and one-appointment crowns utilizing CEREC technology.
Dr. Garner's office always adheres to the strictest sterilization procedures and provides dental services such as: all-porcelain crowns, tooth-colored composite resin fillings, cosmetic teeth whitening, preventive care, periodontal and oral cancer screenings, implant restorations, fluoride treatment and sealants, root canals, cosmetic bonding, wisdom teeth extractions and much more.
Meet Dr. Garner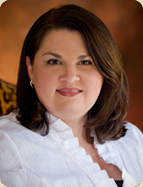 Gina K. Garner, DDS
Dentist

As a child growing up in The Woodlands, Dr. Garner always knew she wanted to be a dentist. A traumatic injury when she was young ignited her passion for making a difference in people's lives -- as her own dentist did. After graduating with honors from Texas A&M University, she enrolled at the University of Texas Health Sciences Center at San Antonio Dental School. Upon receiving her DDS, she returned to The Woodlands, where she has been practicing ever since.
Dr. Garner specializes in general and cosmetic dentistry, using the most up-to-date technology to transform the smiles -- and lives -- of her patients.
Her childhood experience in the dentist's chair shaped the way she interacts with patients. She takes extra care to understand their concerns, and prides herself on treating each person as an individual, tailoring her approach to suit their needs.
"I like to get to know my patients and find out what makes them tick," she says. "What are their interests, as well as their fears? That way I can help alleviate those anxieties through education and demonstration of techniques so the patient will know exactly what to expect."
Her aim is to provide the highest level of care in a warm, welcoming environment.
"I've made it my goal to create a state-of-the-art facility, incorporating the cutting edge technology to give my patients the best possible results," she says. "Here, patients will be treated warmly and with a smile. We offer painless procedures and beautiful cosmetic and restorative options."
Dr. Garner keeps up on the latest research and techniques, attending many seminars and advanced continuing education courses. She belongs to numerous dental societies, including the American Dental Association, the Texas Dental Association, the American Academy of Cosmetic Dentists, the Greater Houston Dental Society, and is the past president and co-founder the Women of The Woodlands Dental Study Club.
Dr. Garner and her husband, Charles, reside in The Woodlands with their son Gavin and Labrador retriever Maggie. She enjoys traveling, dancing, playing with her son and is an avid reader.
Team Members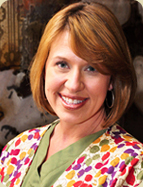 Stacey
Registered Dental Assistant
Having worked with Dr. Garner for more than a decade, Stacey says one of the best things about working in dentistry is the joy she gets from helping patients feel more confident about their appearance. She trained at a cosmetic dental practice in Dallas, Texas and has seen first-hand how dentistry can transform a patient's life. Stacey's natural charm and ability to adapt to the needs of patients, helps ease clients through their procedures and come out smiling.

Married to Billy, Stacey has three sons, two step-children and two grandchildren. She loves to spend time with her husband -- whether it's on the dance floor, riding horses or at the track, where he races stock cars.
---
Amy
Registered Dental Assistant, Appointment Coordinator
When patients call to schedule an appointment, Amy is probably the voice on the other end of the line. Friendly and outgoing, she works with patients to find a time that is most convenient. Amy is the longest-serving member of Dr. Garner's team, having joined her staff immediately upon Dr. Garner's graduation from dental school.

Amy and her husband, Mark, have a daughter and son. They live on several acres, raising horses and other animals. In her spare time she enjoys attending her children's sporting events.
---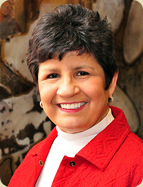 Sandra
Financial Coordinator
A true advocate for patients, Sandra knows how to find financial solutions that meet the needs of all involved. She goes to bat with insurance companies to "get patients the most bang for their buck." A graduate of the Bryman Dental Assisting School, Sandra's childhood dentist and his assistants were her inspiration for a career in the field. It is her goal to follow in their path and help ensure each patient's visit to the dentist is a happy one.

Sandra has two adult sons. When not in the office, she enjoys exploring the art of wood carving, as well as furniture building and restoration.
---
Lori,
Front Office Administrator
Lori is one of the first faces you'll see when you arrive at the office. A graduate of Texas A&M University, Lori has worked in the healthcare field for more than 15 years, having started her career in physician relations at M.D. Anderson Cancer Center in Houston. Lori is committed to ensuring patients are comfortable and well-taken-care-of both before and after their visit with Dr. Garner.

Lori and her husband, Derek, have three children. In her spare time she enjoys working out and spending time with her family and their two dogs. With three young kids, she jokes, she doesn't have much free time these days.